THE AGILE PIVOT
After word of the coronavirus broke, On Side Restoration quickly shifted into high gear creating their COVID-19 Response Centre Committee (CRC). This cross-functional team directs On Side's COVID-19 (C-19) safety operations to support our collective new reality. Warehouse/office safety protocols were developed and deployed, while office teams were swiftly set up to work from home. To accomplish this, On Side easily leveraged its versatile online project management system eClaim. This platform allows all employees to stay on track and connected with each other, including key stake-holders, at the click of a button. Remote working at its best, pandemic or not.
As organizations began to witness the devastation that C-19 was having around the world and potentially in their own facilities, On Side started receiving calls for C-19 decontamination services. Below are two very meaningful projects that the company has felt privileged to be a part of.
C-19 GHOSTBUSTERS AT YOUR SERVICE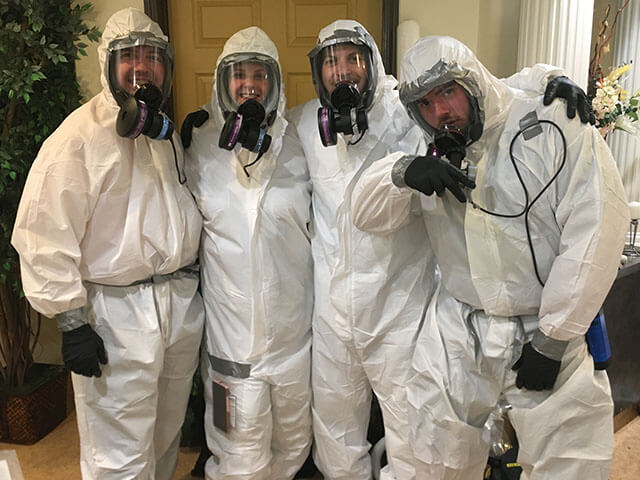 Vancouver team in Alberta: Cody Morettin, Morgan Turner, Angelo Gastaldello, and Bailey Porritt[/image]
COVID-19 was a big threat at a senior's home in Northern Alberta. One call and 24 hours later, the On Side crew arrived fully dressed in their protective clothing to decontaminate the large facility. Sometimes staff even wore more than one Tyvek suit at a time to ensure that no cross-contamination took place. Full PPE in turn lead many of the residents and healthcare workers to lovingly refer to On Side personnel as "Ghostbusters".
Upon On Side's arrival at the home, a sense of relief washed over the residents and caregivers who had been struggling for quite some time to operate safely. In no time, all parties were on a first name basis. On Side cleaned 49 resident rooms as well as all common areas. The job took approximately 1250 hours (2 weeks) and 12 staff, 8 operating at a time. Now with the project under wraps as of May 2, the very dedicated On Side team feels proud of the methodical decontamination work and training they were able to provide. Among the guidance that was shared, On Side instructed senior's home staff on the ins and outs of high touch surface cleaning and safe operating practices to avoid the return of C-19 in their building. On Side truly values the "Restoration Superstars" title bestowed on them by the home's operations staff.
TERMINAL EQUIPMENT OPERATIONS MUST CONTINUE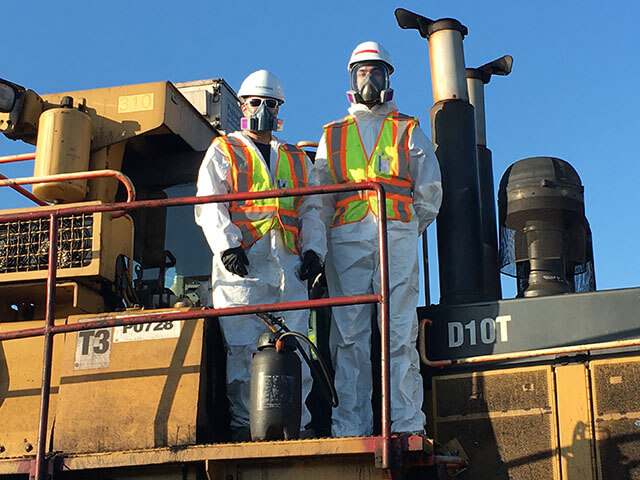 Vancouver teammates: Angelo Gastaldello and Eli Macbeth[/image]
The first late-night call to On Side meant an overnight, 9-hour, 20 person shift. Now 77 pieces of equipment continues to be cleaned on a weekly basis. On Side's detailed and systematic cleaning means the terminal can keep their business functional and operators safe. Equipment includes bulldozers, trucks of all sizes, 60 foot high cranes and more. Through it all, the On Side team was game to climb to record heights, set up temporary lighting measures to keep up with demand and work through dark hours to ensure the client had their gear ready to go for their next business day. Coal roads, height concerns and the large expanse of the property continues to keep the team on their toes, ensuring safety is top of mind at all times.
40 YEARS STRONG IN INFECTIOUS CLEANING
On Side Restoration has offered infectious control cleaning and decontamination services for over 40 years. Now with C-19, the company continues to offer grid-focused cleaning that allows for systematic decontamination of all surfaces. Given their experience and level of expertise in this arena, On Side is able to move fast and get any organization back to their standard business functions quickly.
DO YOU HAVE COVID-19 concerns at your facility that On Side Restoration can assist you with? We are just one call away, DAY or NIGHT at 1-888-663-6604.